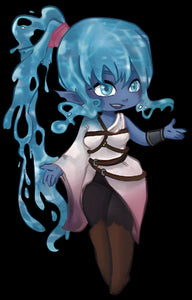 Ithi - Shopkeep
A soft, welcoming chime permeates the air as the atelier's front door swings open, catching the attention of a water genasi gingerly organizing her wares behind a pristine glass counter. She smiles in your direction.
"Welcome to the Atelier," she says, her tranquil voice reminiscent of a babbling brook.
Her hair flows in gentle rivulets around her, faintly emanating a saltwater bouquet as she approaches. "I'm Ithi."
Her smile warms and widens, earrings jingling as she tilts her head to get a better look at you. She turns toward the counter and glides behind it, motioning for you to follow.
Ithi presents you with a small velvet-lined box and opens it delicately, revealing the splendid polyhedral gems glistening within. "I felt these calling to you the moment you walked in."
~ ~ ~
I started my dice-making journey in September of 2019 when I wanted to make myself some cool dice sets for upcoming D&D games! I quickly realized I loved dice making and went full force into creating dice in my free time.
As the months went on, I kept creating and eventually started selling my wares to those who appreciate lovely shines as much as I do! I also began to create and sell my own jewelry, and other trinkets and baubles!
I love the fact that no matter how similar dice or earrings can be to each other, literally every piece is unique due to the nature of how handmade items are created! No swirl, glitter, or inclusion will ever be in the exact same place, giving you an absolutely special piece of art to own.
It also feels pretty amazing to know that my items are out there, helping adventurers create their own stories. I hope that they will be able to help you create yours, too!
Yuki - Her Radiance, High Empress of the Third House of Smeatington, Security Meowfficer
While perusing the atelier, you might spot a four-eared creature resembling a cat. This fluffy ankle-biter always scans the area and makes her presence known – both to keep thieves in check and to receive pets and treats.
~~~
She kinda smells and bites me, but she keeps me motivated. I love her <3.